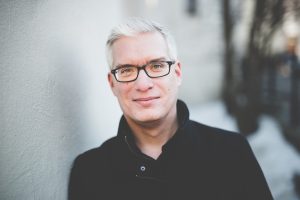 Ian Foster, native of Newfoundland, Canada, is a storyteller. That music is the way he tells those stories only makes the telling richer still. Modern folk wrapped in Canadiana, Ian's writing style belies a love of history, home and the humble tale. CBC's Bob Mersereau described him as being "a fine example of what a 21st century folk performer should be doing."
Often likened to Canadian songwriting icon Bruce Cockburn in both writing and guitar style, and artists like Daniel Lanois for his atmospheric approach to sound, Ian's music has been described as thoughtful, introspective, cinematic, hopeful, atmospheric, and cathartic by critics and fans alike. He has numerous awards, nominations and co-writes to his credit, including SOCAN Songwriter of the Year nominations, Lyric finalist for the International Songwriting Competition (Nashville, TN), and a co-write with Canadian songwriting legend Ron Hynes.
His 2017 release Sleeper Years marks several years' artistic growth for the artist. In the years since his last album, The Great Wave, Foster has toured internationally, produced critically acclaimed and award winning albums for artists like Kat McLevey and Melanie O'Brien, and has toured with his second short film, Keystone, which was called one of the top ten short films of the year by the Calgary International Film Festival. The results take shape on the new album, with bold new material like Killing Frost alongside cinematic pieces like Our Love Was. Even primarily acoustic songs like Feels Like It Wants To Rain and Postcards are made lush with the presence of organs, strings, piano and subtle soundscape that strive only to serve the song.
Ian has toured in Canada, the U.S, Germany, The Netherlands, Austria, and Italy, and has had his music played on radio internationally. With the release of Sleeper Years, he will return to all these places. He has performed his music for audiences of all ages, from school workshops to seniors' homes, festivals in Canada, U.S., and Italy to soft seat theatres, churches, pubs and house concerts: the constant has been connection with the audience.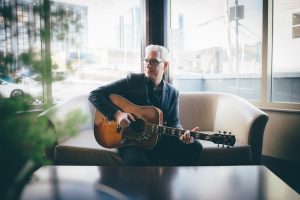 Ian continues to wear many musical hats: touring songwriter, music producer, film director, writer, and composer. All of these different facets come together on Sleeper Years like never before.
* * *
PRESS
What people are saying about Ian Foster's Live Show
"Foster had a true knack for fully engaging the crowd with his genuine and light-hearted banter…with a request for some audience participation during another track, Foster not only 'trained' the crowd to sing along, but successfully split those before him to have different responses at key times, thus providing a very melodic response that worked perfectly with his lead vocals. Ian Foster was a hit both with the audience, and certainly with us."
What people are saying about 2017's SLEEPER YEARS: 
"This is a craftsman at work…one thing that anybody previously familiar with Foster's work knows is that above all else he's a master with words. He's got many a tale to tell and tells them with elegance. Some of the songs are in essence short stories, others poeticisms reflecting a connection to his surroundings….Foster has become the model modern Newfoundland songwriter. Fluid in genre, pitch perfect in practice, but still harkening to the raconteur beginnings of the folk tradition."
– Brad Pretty, The Overcast Magazine, Newfoundland
"Ian Foster has steadfastly become one of the premier singer-songwriters of his generation in our province and in our country…on Sleeper Years, Ian has never sounded better, at ease and exuding confidence throughout an 8 song set as diverse as it is pleasing…In "You Left A Song…" Ian asks Ron Hynes, 'how did you make them all shine?' Evidently Ron answered for Ian brightly shines on SLEEPER YEARS."
– Tony Ploughman, Fred's Records Newfoundland
"[With] the attention to detail in production, telling the story and performing the songs with passion, [Ian] delivers once again on ' Sleeper Years ' with richer texture than ever before."
– Stevie Connor, Blues and Roots Radio
"Sleeper Years is an album that melds a contemporary sonic eloquence with the masterful songwriting and storytelling we have come to expect from one of Newfoundland's premiere artists."
– Craig Mills, The Eastern Passage, Ontario
"Some of the most effective modern folk of the region. [Foster is] not a traditionalist or a roots music performer, this is firmly in the now, with a little rock, some ballads, blues and jazz, whatever works. The message is in the words, with some pretty sharp observations about the human condition."
Bob Mersereau, CBC/Top 100 Canadian Blog, New Brunswick
"Sleeper Years is one impressive collection of well-crafted songs showcasing Ian's uncanny knack for story-telling …. featuring captivating vocals and the production is solid. I already started playing stand-out tracks like Feels Like It Wants to Rain, Stinging Nettle, Postcards and the exceptional tribute tune – You Left A Song."
– Paul Kennedy, Seaside fm, Halifax
"This is only the second time IN MY LIFE that I have starred every single track on an album — and I didn't realize I had done that til I went to star "Our Love Was" and saw that it was the last track.  Terrific work."
— Christine Lavin, guest host, On Your Radar Radio Show, New York, New York.
Older Press
"Foster has a great handle on what a 21st century folk performer should be doing."
– Bob Mersereau, East Coast Music, CBC NB
"The Great Wave is an album with a warm delicate precision and attention to detail that could only be created by a master craftsman and artist as talented as Ian Foster"
– Craig Mills, The Eastern Passage
"A tuneful contemporary singer/songwriter with a poet's keen sense and a searcher's infinite explorative mind…his best collection of songs to date."
– Tony Ploughman, Fred's Records
[Foster] understands the roots in North American music and weaves that heritage into his songs quite seamlessly…His voice is excellent and the arrangements are varied and smart throughout this album. I think even lesser folk fans would find plenty to enjoy here."
– David Hintz, Folkworld/DC ROCK LIVE
"There is no denying the talents of Ian Foster. He puts it on full display with the release of his new album, The Great Wave…Ian engages the listener with great stories, exceptional vocals and brings it all together with talented musicianship."
– Michael Trenholm, East Coast Kitchen Party
"[Foster] has an appealingly robust and melodic voice and his well-crafted songs are neatly fleshed out on impressive new outing"
– Kerry Doole, New Canadian Music
"Spread the word – Ian Foster is a good'un…a lovely discovery for me. The Evening Light is a keeper. Check it out."
– Les Siemieniuk, Penguin Eggs
"Excellent…anyone who enjoys good songwriting and performance should enjoy The Evening Light"
– Keith Collier, The Independent
"4/5…Brilliant songwriting, easy to love songs and excellent performances from Foster and his crew make The Evening Light one of Canada's best kept secrets of 2011."
– Jason Gladu, Stage Door Music Review
"Our favourite Canadian troubadour."
– Freddy Celis, Rootstime, Belgium
"Ian Foster is Canada's best kept secret."
– Gianni Zuretti, Mescalina Magazine, Italy